Information evening 19th October
Dear GA Families
Firstly, I would like to introduce myself, my name is Mr W Meldrum and I am proud to be Deputy Headteacher and Raising Standards Lead here at Gloucester Academy. It is with great pleasure that I am writing to you today to inform you of some excellent opportunities for you and your child to ensure that they reach the top of their own personal mountain with as much support as possible.
Information Evening - 19th October 2022
I would like to invite you and your child into the school for the first of 3 information evenings that will take place on the 19th October 2022 from 6.00 - 7.00pm. This evening will outline the year ahead including any key dates or pieces of information, students will pick up their revision packs filled with revision materials and it is an opportunity for us to meet personally as we begin our journey together.
October School
I am incredibly pleased to let you know that we will be providing subject specific interventions sessions over the October half term. This is one of the many strategies we deploy as school to ensure that your child is as well supported and prepared as possible for sitting their GCSE exams at the end of this academic year. It would be absolutely fantastic to see these sessions full, please see the reverse for a timetable of the week. Please register your child for these sessions using this google form.
Key information on October School:
Students need to be at the front car park gate ten minutes before each session.
Students will sign in at reception.
Students will be given a free drink and breakfast bar during the day as well as other surprise snacks, but they should bring a water bottle and any other snacks they may need as the kitchens will not be open.
Students are not expected to wear their school uniform and may wear sensible clothing suited to learning.
Students must bring their normal equipment with them.
Students are expected to uphold the school rules whilst on site and to and from the school.
GLT 'Achieving a grade 5' Tutoring Sessions.
Being part of the Greenshaw Learning Trust comes with many benefits, one being having access to their tutoring program. A letter has been sent out for you to sign your child up for tutoring in English, Maths, Biology, Chemistry, Physics & Spanish. If you have not received this letter or you have any questions then please contact using the email address below. I am incredibly excited about working closely with you and your child to guide them up their own personal mountain to the best universities and professions possible.
Many thanks
Mr W Meldrum
Deputy Headteacher
wmeldrum@gloucesteracademy.co.uk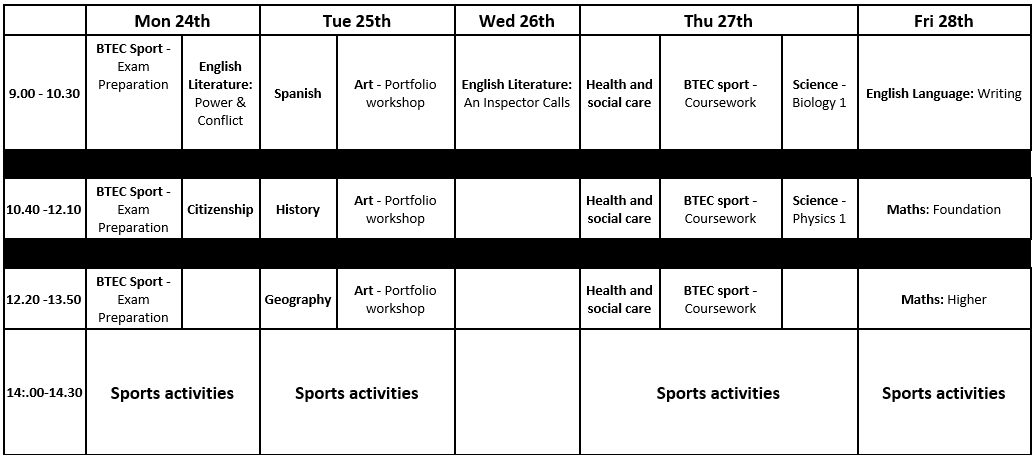 Please note self-study is available all day Monday, Tuesday, Thursday and Friday - you can use the school facilities to complete your own study