Bike marking event
Dear GA Families
Gloucestershire Police Neighbourhood Team will be attending Gloucester Academy for a bike marking event on Thursday 3rd March 2022 at 3pm. This service is free to our students and your child can have their bike marked and coded.
Every police force in the UK uses the BikeRegister database to search for stolen & recovered bikes. This service will be supplied free of charge by Gloucestershire Constabulary.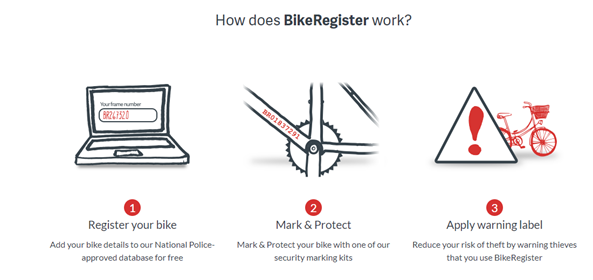 Your child can collect a form from student reception and this will need to be brought with them on Thursday 3rd March 2022 in order to have their bike marked.
Cycling to school
Within the uniform policy it states that students should wear a cycling helmet if they cycle to or from school. Please make sure you are supporting your child's safety by providing the relevant equipment. Further cycling guidelines and expectations can be found HERE on our website.
All students who cycle to school will have their bike scanned before returning home.
Yours sincerely
Miss Exton
Assistant Headteacher
Behaviour, Culture and Ethos